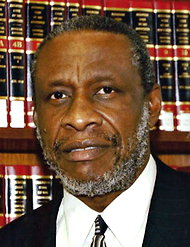 Outspoken: The Olly Neal Story is now available. Order today and enjoy the #OutspokenBook. Olly Neal is on Twitter at @OllyNeal1.
Olly Neal was born in the New Hope Community of Lee County on a small family farm.  He attended Black Lee County Public Schools.  He earned a Bachelor of Science Degree in Chemistry from LeMoyne-Owen College and a Juris Doctor from the University of Arkansas at Little Rock School of Law.
A Vietnam Veteran, he served in the U.S. Army and attained the rank of Specialist Five (E-5). Neal worked for the U.S. postal Service; the Glidden Company as a paint chemist; and with St. Jude/MAP-South Supplemental Feeding Program as supervisor.  In 1969-1970 he helped organize and became the first Administrator CEO of Lee County Cooperative Clinic, a patient controlled community health center. While in that position, he also assisted 15 low-income rural communities in building safe water and wastewater facilities.
He has also served as member and chairman of the Lee County School District, Winthrop Rockefeller Foundation, National Demonstration Water Project, and Arkansas Land & Farm Development Corporation. He served on the Board of Directors of the Arkansas Judicial Council and was awarded the Council's Community Service Award in 2003.
After graduating from law school in 1979, Neal practiced law in Marianna, Ark. until 1991, when he became Arkansas' first African-American (District) Prosecuting Attorney.  He went on to be elected Circuit Judge in his First Judicial District.  In 1996, he began an appointed term on the Arkansas Court of Appeals and was subsequently elected to a position on that court where he served until his retirement on January 1, 2007.
Neal is a member of  Phi Beta Sigma Fraternity, W. Harold Flowers Law Society, and the Arkansas Bar Association.  He is also a life member of the National Association for the Advancement of Colored People (NAACP), Arkansas Land & Farm Development Corporation, and Veterans of Foreign Wars.
Neal, with Jan Wrede, is the author of Outspoken, The Olly Neal Story.
Contact Judge Neal (Ret.) at ollyneal at gmail dot com.